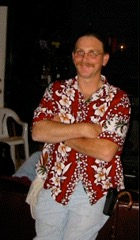 I used to live in a pyramid but now I don't.
My unbelievable story
You can read some short articles about me at the following links.
Public Speaking
I am available for public speaking
Internet Radio
I do a live Internet radio show every Saturday night from 10:00 pm until midnight Eastern Time Zone.  My show is called "On the Doc with DiG".  I play a lot of great laid-back music from many different music genres.  I read positive life quotes. My hope is to inspire other people with disabilities to find their own way.  Sometimes I do interviews with professionals involved with the disabled community.  I also do interviews with those who are disabled.  I believe everyone has an interesting story.  If you are disabled or have been touched in some way by a disability, and want to tell your story, call me and leave a message. I will call you back.  I can be reached at 910-805-3212.
My show "On the Doc with DiG" is brought to you by the good folks at www.soulfulencountersradio.com  a division of http://www.soulfulencounters.com
More about Soulfulencounters
You can learn more about the Soulfulencounters community by clicking ==> here.
Resume
Work history review
You can contact me via email at david@daviddiggs.net
The disability survival guide mission statement
To act as an educator and counselor to the non-disabled about what it really means to be disabled.  Be an advocate for the truly disabled and their families.  To always show compassion and understanding for the disabled.  Provide guidance, encouragement and hope to the disabled who are trying to find their own way to reach independence.